14 Things to Know About Adsense Advertising
Reading Time:
7
minutes
Google AdSense is a Google service that allows website publishers in the Google Network to deliver text, pictures, videos, or interactive media adverts that are relevant to the site's content and audience. Google manages, sorts, and maintains these adverts. They can make money on a per-click or per-impression basis. According to data, AdSense was the monetization method of choice of over 38 million websites in 2021. AdSense is a free and straightforward way to generate money by showing advertisements suitable to your online content. AdSense allows you to show relevant and interesting advertising to your site visitors while also customizing the style and feel of the ads to match your site.
The AdSense Program serves Google adverts on your website. Google then compensates you for the ads that appear on your site based on user clicks or ad impressions, depending on the type of ad. AdSense provides you with immediate and automatic access to a massive amount of advertiser demand, which means greater competition for your ad spaces, more targeted advertisements, and adverts for all of your online content.
1. How does AdSense function?
Publishers can earn money from their online work by using Google AdSense. AdSense works by displaying adverts that are relevant to your site's content and visitors. Advertisers, who wish to promote their products, create the ads and pay for them. Advertisers pay for ads using a bidding procedure. The amount you make will vary because these advertisers pay different amounts for different adverts and sites where these ads will appear. The more advertisers who pay to appear on your ad space – much as in a typical auction – the stronger the competition for your ad units, and the more you can make. The fewer limits you place on the kind of advertising that can appear on your site, the more adverts Adsense will be able to return, thereby increasing your earnings.
The program works like this:
You make your ad spaces available – You make your ad spaces available by inserting an ad code on your site and selecting where you want the advertising to show, or simply allowing the automatic ads to appear anywhere they see fit.
The highest paying advertising appears on your site – Advertisers compete in a real-time auction to appear in your ad spaces. The highest-paying advertisements appear on your website.
You get paid – Adsense manages the paying process for all advertisers and you will eventually get a share of what the advertisers paid.
Here are the options for the kind of ads that will show on your site when you select "Auto ads":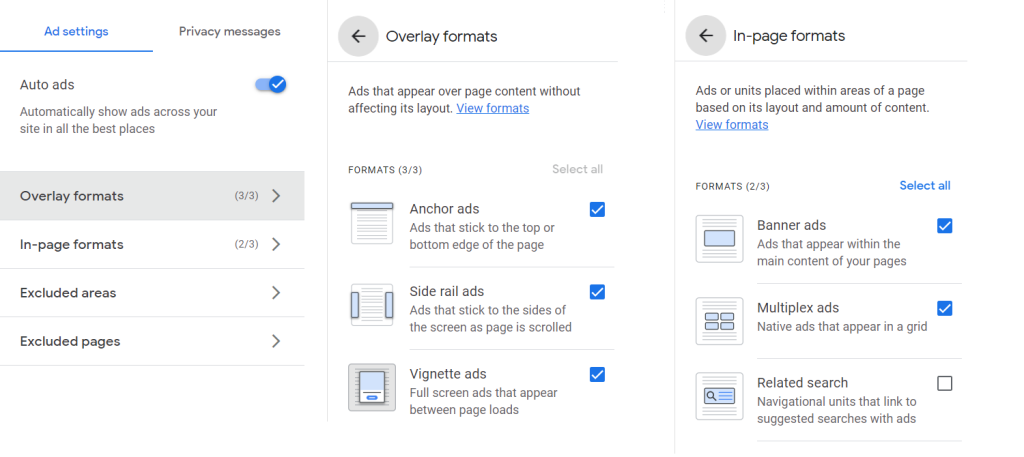 2. How much money will you make with AdSense?
It's difficult to predict how much money you'll make using AdSense until you try it for yourself. AdSense profits are affected by a variety of factors, including the amount of traffic you receive, the type of material you offer, where your users are located, how you set up your advertising, and so on. To get an estimate, and only an estimate, you can use the AdSense revenue calculator at https://adsense.google.com/start/#calculator. It calculates your potential annual revenue depending on your site's content type (arts & entertainment, finance, etc.) and the region with the highest visits. You can ultimately earn between $0.2 and $2.5 per 1,000 views.
3. How much is the share of revenue you will get?
You will get 68% of what is paid by advertisers to show ads on your site.
4. So, how much traffic is needed to earn $100 per day through Adsense?
The crucial element is the Ad revenue per thousand impressions (RPM) (also known as EPM where the E stands for Expected), which is computed by dividing your expected revenues by the number of ad impressions received and multiplying by 1000. In other words, if you expect that 1,000 visitors to your site will make you earn $10 on average, then 10,000 visits per day are required to earn $100 a day. If the earnings are lower, say $5 RPM, then 20,000 visitors are required. If it's higher, say $20 RPM, it requires less traffic, approximately 5,000 visitors each day. All of those figures are speculative. The trick is to determine the actual RPM for your site or set of sites to determine how long it will take you to reach the $100/day goal. The more actual earnings data there is, the more accurate the anticipated RPM figures will be. Once the RPM for a site or portfolio of sites is determined, it is simple to calculate the average daily traffic required to fulfill the $100 per day objective using AdSense.
5. Do you have to pick which ads to display on your site?
No. AdSense offers adverts on your site that are relevant to your content or audience.
6. Who decides which adverts appear on your website?
AdSense uses an ad auction to determine which ads will appear on your pages. The highest-paying advertisements will appear on your site.
7. Can you see the advertisements on your website?
Yes, once your ads are live, you will be able to see them on your website. However, it is critical to remember not to click on your advertisements. The AdSense Program's standards prohibit you from clicking on your advertising for any purpose. You will risk getting banned from the program.
8. Can you remove an ad from your website that you don't like?
Yes. Individual ads can be reviewed and approved for display on your pages using the Brand safety page in your AdSense account.
9. Is it necessary to pay to use AdSense?
No, AdSense participation is completely free. Google is compensated by the 32% share it takes on earnings.
10. How do you register for AdSense?
If you're ready to begin using AdSense, go to https://adsense.google.com/adsense/signup?sourceid=asos&subid=ww-ww-et-HC_entry&medium=link. Before you join, make sure your site complies with the Program regulations.
11. What are the primary participation policies that you must follow?
Publishers that desire to use the AdSense service must follow the Program policies you can read here https://support.google.com/adsense/answer/48182?hl=en. If you do not follow these policies, your AdSense account may be terminated. Google can also opt not to display advertisements on sites that violate the policies, disable ad serving on individual pages that violate the policies, withhold payment, or close offending accounts.
12. How does Adsense enforce the Program policies?
They actively monitor publishers to ensure that Adsense policies are followed. If they discover publishers who violate the policies and other terms of service, they may suspend or delete the account.
13. How do you boost your Adsense earnings?
To boost your Adsense earnings, you must first increase visitors to your website (or YouTube channel), which you may do in a variety of ways. Here are some of the more common approaches, but there are many more.
A. Improve your website's SEO
Search engine optimization is the process of increasing the quality and quantity of search engine traffic to a website or web page. SEO focuses on unpaid traffic (often known as "natural" or "organic" results) rather than sponsored or direct traffic. Unpaid traffic can come from a variety of sources, including image and video searches, academic and news searches, and industry-specific vertical search engines.
SEO evaluates how search engines work, the computer-programmed rules that govern search engine behavior, what people search for, the actual search phrases or keywords placed into search engines, and which search engines are favored by their targeted audience as an Internet marketing strategy. SEO is done because websites that rank higher on search engine results pages (SERPs) gain more visitors from search engines.
Cross-linking between pages of your website to provide more links to relevant sites is one thing you can do to improve the SEO of your website. This could increase its visibility. A well-optimized page design makes users trust a site and want to stay once they find it. When people bounce off a site, it counts against the site and affects its credibility. Writing content that includes frequently searched keyword phrases to be relevant to a wide variety of search queries will tend to increase traffic. Updating content to keep search engines crawling back frequently can give additional weight to a site. Adding relevant keywords to a web page's metadata, including the title tag and meta description, will tend to improve the relevancy of a site's search listings, thus increasing traffic. URL canonicalization of web pages accessible via multiple URLs, using the link rel="canonical" element or via 301 redirects can count towards the page's link popularity score, ultimately impacting the credibility of a website.
B. Utilize online forums, online groups, and social media
The beautiful thing about forums and online communities is that you may target a certain demographic that you are interested in. You can talk about anything related to the niche that you represent or offer. Another significant advantage is that you will be prepared because you are an expert in your area. You may develop a reputation for your organization by participating in online communities and forums. Show them what you're made of and wow them with your spectrum of experience on the issue, and you'll be able to develop a reputation and trust with the people who rely on your expertise and knowledge.
C. Create Newsletters
Newsletters are another option. Give visitors a catalog of your items as well as useful and engaging articles. More people will sign up for your email and suggest it to others if you make it very fascinating and entertaining. The more people that sign up for your newsletter, the more people will visit your website, increasing your traffic.
D. Exchange Links
Another excellent approach is to exchange links with other websites. You are not required to spend any money. You only need to establish an arrangement with another webmaster. The efforts made by both sites will assist both sites by trading links. Every visitor to the site can click on the link to your site and view it as well. This works particularly well when both sites feature the same niche.
E. Write Articles
Create articles that will stimulate the curiosity of people who are interested in your goods or services. Try authoring articles that will help other enthusiasts by providing suggestions and guides. Writing articles that bring value and expertise to others would generate the essential mileage for your traffic flow. Many websites allow you to submit and upload your content for free. People that are interested in your writings have a decent probability of following the trail and discovering where the article originated. Include a link or a quick description of your company with the story, and people are more likely to visit your website.
F. Create Quality Content
Create quality content for your website. Many search engines monitor the keywords and keyword phrases used on your site, as well as how they are employed. It is not required that material be written by a professional content writer. You could do your thing, but you must create material for your blog that is both amusing and informative. It should meet specific requirements while also being of high quality.
14. Is there a viable Adsense substitute available?
The best alternatives to Adsense, but far from it, are probably Media.net, founded in 2016 and the world's second-largest contextual advertising network by revenue, Setupad, founded in 2015 and one of the Baltics' leading startups, AdPushup, founded in 2014 and Google Certified Publishing Partner (GCPP), backed by Microsoft Ventures, member of the IAB and TAG, and winner of the NASSCOM Emerge 50 award, and Taboola, founded in 2007 and awarded with the Gold Standard 2.0 Certification by the IAB UK, in February 2022