Is the P2E Game Axie Infinity a Good Way to Make Money?
Reading Time:
6
minutes
I've read in recent news that Axie Infinity players earn around $1,200 per month on average. Is that true? Let's find out.
Axie Infinity is a non-fungible token-based online video game developed by the Vietnamese tech company Sky Mavis. The game is well-known for its in-game economy that employs Ethereum-based coins. Axie Infinity players collect and mint NFTs that have the shape of digital pets known as Axies. Within the game, these creatures can be produced and pitted against one another. When players trade Axies on Sky Mavis' marketplace, they pay a 4.25% fee. Axie Infinity is based on Sky Mavis' Ronin Network, an Ethereum-linked sidechain. The game's official cryptocurrency is known as "Axie Infinity Shards/Token" or AXS for short.
Axie Infinity: The game
Axie Infinity is a competitive game that uses an "idle battle" system similar to Final Fantasy Tactics and Idle Heroes. The game's setting is packed with Axies, which players can acquire as pets. The goal of the game is for players to battle, breed, collect, grow, and establish kingdoms for their Axies. The game features an in-game economy where players can buy, sell, and exchange resources earned in-game.
The game uses a "play-to-earn" (P2E) concept, in which gamers can earn the in-game coin by playing. This strategy is often seen as a type of gambling, that is highly reliant on new player financial inflows to thrive.

On the Axie Infinity Marketplace, you can buy various items including Axies of course. The floor price of an Axie is US$1.36 at the time of writing, it was $400 a couple of years ago. Axie Infinity players can also use NFTs to buy virtual land and other in-game assets like Accessories, Runes, and Charms. Right now there are 89 plots for sale on the marketplace with the highest price at ETH20 or $32,474.4. As of November 25, 2021, the record price for a plot of virtual land was US$2.3 million.
How Much Money Can You Make at Axie Infinity?
Axie Infinity exploded in popularity in June 2021, becoming one of the most popular blockchain-based games. It was estimated that gamers could make $10-50 per day while playing the game. Not unexpectedly, many players had turned to the game as a source of income, particularly in the Philippines. In my opinion, earnings are much less now. Even though the year 2023 has been slightly better for crypto investors, Axie Infinity's comeback was relatively short-lived, as prices have since dropped to 2022 lows.
How Do You Make Money at Axie Infinity?
There are several ways to profit from participating in this blockchain game. The following are the 5 primary ways for Axie Infinite players to gain money:
1. Collect Smooth Love Potions
SLP (Smooth Love Potion) is the reward in-game token, and its collection is the beginning point for most new gamers. As of May 2023, there is only one way to gain SLPs, and that is by winning the arena fights. It is efficient, but difficult because you must compete with other players. If your MMR (MatchMaking Rating) is higher than 2500, you may be able to win Arena matches and collect up to 14 SLPs for each victory. This is only 1 SLP at an MMR of 0-999. Unlike Adventure Mode, however, engaging in Arena bouts costs 1 Energy. Depending on the quantity of Axies held, energy replenishes over time.
For example, owning more than 20 Axies earns you 5 Energy every two hours, or 60 Energy every day. Possessing 3-9 Axies or 10-19 Axies grants you 5 Energy in 6 and 3 hours, respectively. This means that if you spend 60 Energy on 60 matches at the highest level, you might possibly earn up to 840 SLPs in a single day.
Throughout the game, SLP is a valuable resource that is in high demand. This is because SLP tokens are required to breed Axies. You can sell SLPs on the Axie Marketplace after you have them.
2. Axie breeding and sale
Axies that you own, in addition to the SLP token, have value as NFTs. They have the ability to breed, which results in the birth of a new Axie. When the child of two Axies is born, it has powers and stats that differ from the current Axies. When you breed a new Axie, you have the option of keeping it or selling it on the market.
The price of an Axie is decided by its quality, which is primarily determined by its stats. The better the stats, the more money you'll get.
3. Establishing an Axie Scholarship Program
If you do not intend to sell your Axies, you could create an Axie Scholarship program. You may then use the Axie Scholarship to lend your Axies to others so they can start playing for free while you get a portion of their revenue.
You can only control one team of three Axies at a time in Axie Infinity. Creating numerous accounts is against the game policy and will result in a ban. That is why many gamers with extra Axies choose to build Scholarship programs where they may make money from them. As a manager, you determine the terms and conditions of your Scholarship, like quotas and how money will be distributed.
4. Purchase Lunacia Land Plots
The in-game environment of "Lunacia" is being built by developers as one of the aspects of Axie Infinity. As a Lunacian, you can do many things with your plot.
Plots can be altered to generate valuable resources, battle monsters, host shops, and serve as dungeon entrances. These plots, like real-world plots, can be rented or sold. Alliances can be formed to pool plots and form guilds. The plots can be altered to serve as houses or operations bases for Axies.
5. Investing in Axie Infinity Shards (AXSs)
The Axie Infinity Shard (AXS) token is one of the Axie Infinity in-game tokens. It serves as both the in-game cash and the governance token. If AXS holders stake their tokens, play the game, and vote in important governance votes, they will be able to receive rewards. Players will also be able to earn $AXS through playing various games in the Axie Infinity Universe and by participating in user-generated content projects.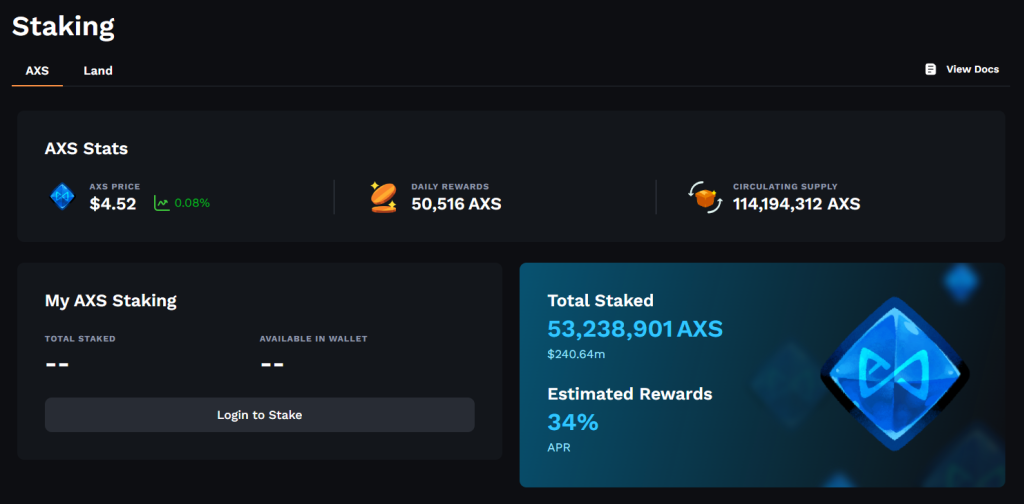 Staking is just locking up AXS tokens to support Axie infinite operations. Stakeholders will receive newly issued AXS in exchange. Staking AXS assures that you can profit from Axie Infinity's success. It is a simple and dependable way to generate passive income. The AXS chart does not look very promising though.
Are There Other P2E Games You Can Play to Make Money?
There are several games you can play to earn money. The top 3 are probably The Sandbox, Star Atlas, and Alien Worlds at the moment.
1. The Sandbox
The Sandbox is a blockchain-based, Ethereum-based 3D open-world game. It is made up of thousands of plots of various sizes. Each plot contains the plot owner's one-of-a-kind work. This might be a game, a social hub, or anything else that can be imagined and created. Sandbox is voxel-based, giving it a Minecraft-like appearance. Individual voxel objects can be imported from external editors and used as assets inside each session. The Sandbox Game Maker, built on Unity and including an ever-expanding scripting language, provides builders with a lot of freedom to create something unique. SAND is the Sandbox Metaverse's native utility coin, allowing users to buy and sell LANDS and ASSETS. You can earn $SAND by completing in-game challenges and missions. You can also construct your own NFTs to sell on the marketplace. If you have enough LAND in this game, you may rent it out to developers who want to create their own games in The Sandbox.
2. Star Atlas
Star Atlas is a 2620-themed, Solana-based, MMORPG P2E strategic game, created by ATMTA Inc. It was built with the Unreal Engine 5, and a limited sample is accessible on the Epic Games Store. Players can explore a virtual world similar to the metaverse, go on quests, join in-game factions, and make their fortunes in space. You can also explore and conquer distant regions, mine for minerals, buy and trade resources on the Star Atlas marketplace, and create your own society. To begin using Star Atlas, you'll need an in-game NFT that may be used to obtain an access key. Ships, treasures, constructions including space stations, and badges are among the NFTs in the game. ATLAS and POLIS are the native tokens. The former is the utility currency in-game, while the latter serves as a governance token.
3. Alien Worlds
Alien Worlds is an adventure clicker NFT game set in the metaverse around the year 2055. In this P2E game, you play as a space explorer who can acquire, trade, or utilize one-of-a-kind digital objects or NFTs that are primarily minted on the WAX blockchain. In-game items in the form of NFTs can be purchased to mine Trilium (TLM), a fungible token, engage in battles, and fulfill objectives. You'll be battling and collaborating with other players in order to obtain TLM, which you may use to boost your power. Newcomers will be given an avatar, a basic shovel, and a skill tree. You can also begin exploring several worlds and mining TLM. To play Alien Worlds, you must stake Trilium to have access to rewards such as growing your planet's prize pool, obtaining a new tool or minion, and voting in weekly planetary elections. Aside from mining, staking TLM, and voting in weekly elections, you may also exchange NFT game cards to improve your strategy and teleport your TLM between blockchain platforms like BSC, WAX, and Ethereum.
Tags:
axie infinity
,
binance
,
blockchain
,
blockchain games
,
bsc
,
crypto
,
cryptocurrency
,
defi
,
earn.play.nft games
,
ethereum
,
gamefi
,
gamer
,
gaming
,
metaverse
,
nft
,
nft art
,
nft collector
,
nft gaming
,
nftartist
,
nftgame.eth.nft community
,
nfts
,
opensea
,
P2E
,
p2e games
,
p2e games 2023
,
p2e games android
,
p2e games free
,
p2e games ios
,
p2e games meaning
,
p2e games pc
,
play to earn
,
pvp